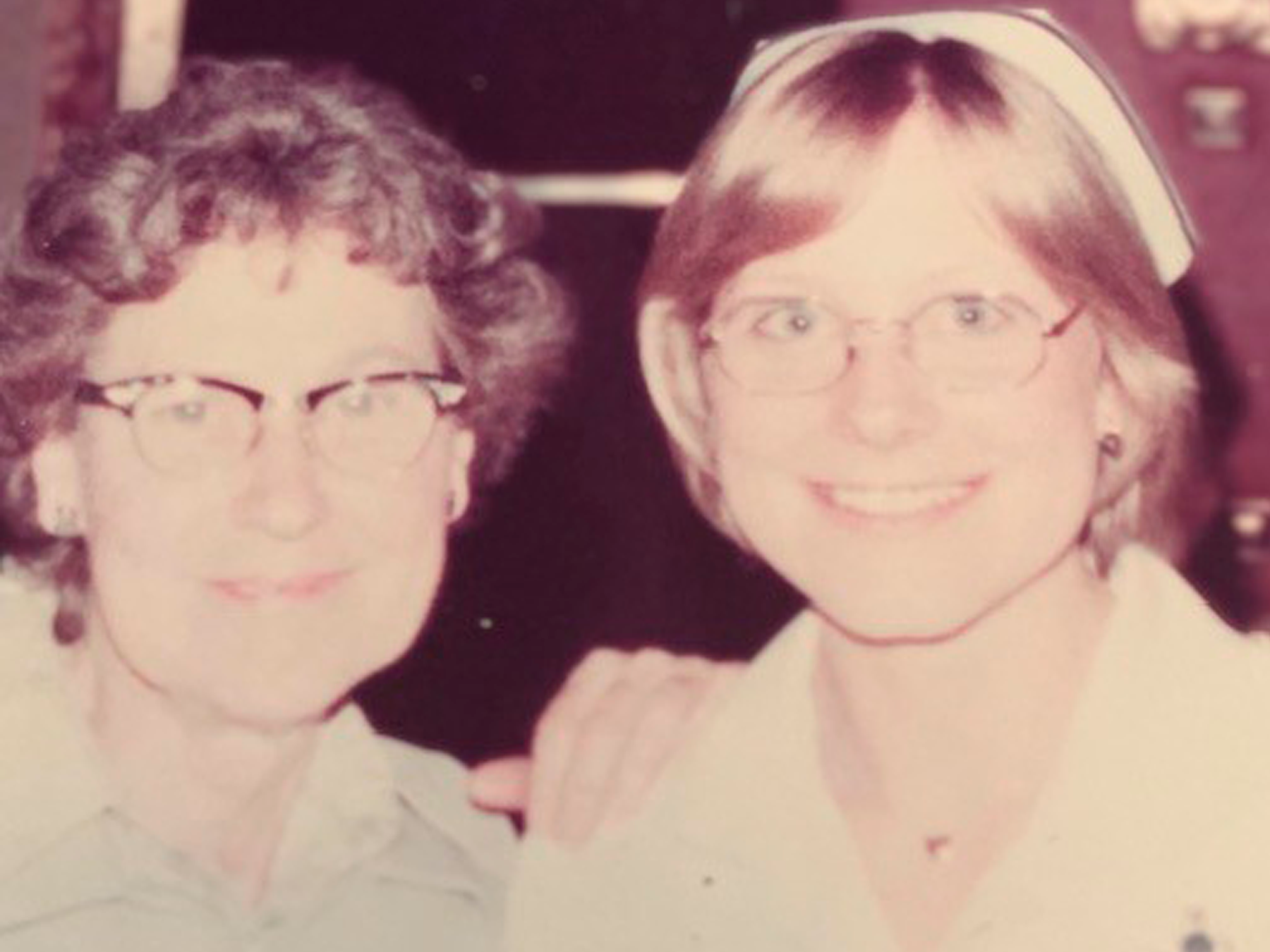 Helen Buchanan was diagnosed with non-Hodgkins lymphoma when her daughter, Terry Miller, was 16. After the diagnosis, Helen spent two months at Research Medical Center receiving treatment and making friends. 
"Many of the staff members caring for her would tell me how funny, sweet and special she was. That made me so proud to be her daughter and watch her gracefully face what ending up being a terminal prognosis," Terry said. 
Terry enjoyed science classes and was involved in a medical assistant program during high school. After graduation, her mother used positive and uplifting stories of her care at Research Medical Center to urge Terry to pursue an education at Research School of Nursing.  Terry followed her mother's advice and was accepted into what is now Research College of Nursing. Three years later, in 1977, they celebrated her graduation from nursing school together. 
Terry's first two years as a nurse were spent in oncology. At the end of her first year, Helen was admitted on the same floor where Terry worked. She watched her colleagues care for her mother until her passing. 
After saying goodbye to her mother, she transitioned to critical care and completed her bachelor of science in nursing. In 1984, she moved to emergency care and spent 33 years in Research Medical Center's emergency, trauma, helicopter and ambulatory care departments. Terry connected with coworkers, mentored young colleagues and developed an intern program for aspiring health care professionals all while remembering why she chose to become a dedicated, experienced nurse. 
"My mother made me feel I could do whatever I wanted and be whoever I chose to be. That sense of amazing, unconditional love and empowerment was the foundation for my success as a nurse."
Terry established the Helen Buchanan Memorial Nursing Scholarship Fund. The scholarship was created to honor Helen and her support of Terry throughout her nearly 40 year career as a nurse. The scholarship will be presented annually to a nursing student to recognize academic excellence, leadership and dedication to the health care field. 
"I have been richly blessed in my life by so many who contributed to who I became. It seemed only appropriate and honorable for me to 'pass it on' to the future generation of caregivers in this most rewarding and noble profession that I have loved being a part of."
As a surprise birthday gift, Terry's husband Dan provided the final funding needed to establish the scholarship. She was surrounded by family and friends who knew Helen when Terry was delivered the news. 
On the nursing school graduation card that Terry received from her mother in 1977, Helen wrote "the torch is passed, carry it proudly." With the establishment of the Helen Buchanan Memorial Nursing Scholarship Fund, both Helen and Terry have much to be proud of. 
Email info@theresearchfoundationkc.org to learn more about establishing a scholarship.