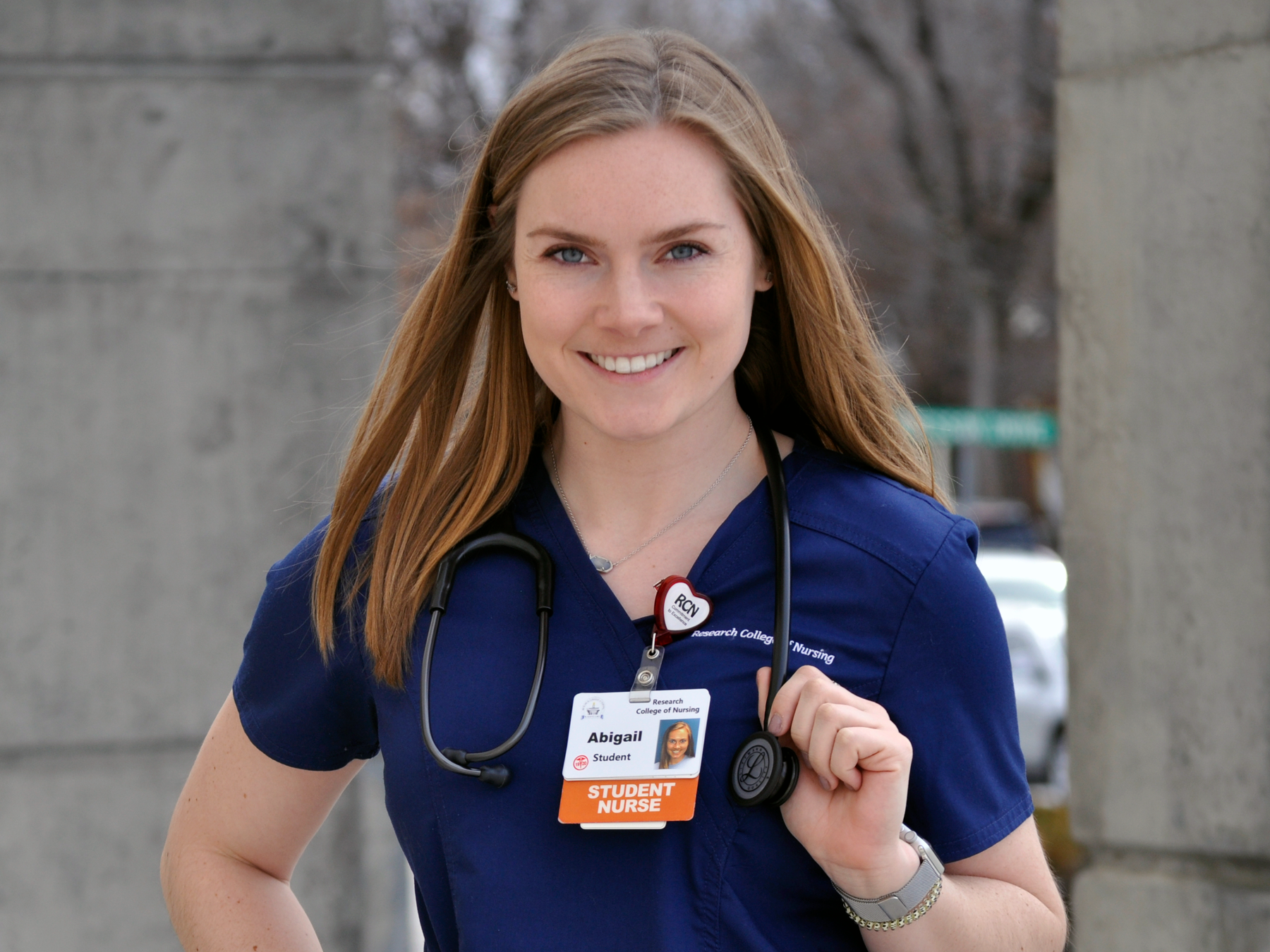 Cancer has always been a part of Abigail's life. She's witnessed the effects of treatments, seen the results of surgery and has even been in the room when a cancer diagnosis was delivered. 
"I want to be with others during that scary diagnosis. I want to help them grieve, come to terms and be by their side ready to fight."
When Abigail was a child, her great aunt was fighting the final stages of lung cancer. Abigail and her grandmother would visit the hospital after school and sit with her in her remaining months. Abigail formed a unique bond with her. 
"I was there as she realized it was an end of life process. She was very open about how she was feeling and what was happening to her body. None of it scared me. That stood out to me."
After that, Abigail's relationship with cancer evolved. Her grandmother was diagnosed with breast cancer. She received a double mastectomy and Abigail watched her recover from the surgical side of cancer treatment. Not long after that, Abigail's grandfather was given a stage three renal cancer diagnosis. He went under anesthesia and had a kidney removed. Abigail watched him recover and prevail.  
Abigail Ottoline is now a junior at Research College of Nursing who aspires to become an oncology nurse. Those aspirations earned her The Research Foundation's Holly Moore Memorial Oncology Scholarship. The scholarship was established by Holly Moore's family after she lost a four-year battle with breast cancer. It's designated to support a student who is interested in working as an oncology nurse, an interest that turned into a chosen career path during Abigail's clinical experiences at Research College of Nursing.
Research College of Nursing offers designated education units; these provide an opportunity for nursing students to have one-on-one time with working nurses and gain hands-on experiences in the healthcare field. Abigail was assigned to the stroke and brain trauma unit. During her last shift, a man arrived with what he thought were symptoms of a stroke. A CT scan revealed cancer all throughout his body. Abigail was in the room when he received his diagnosis. 
"After a patient receives that news, nurses are there to answer questions. I was with him as he came to understand the words just said to him. I helped him put meaning behind those words." 
Abigail's experiences with cancer patients connects her to Holly Moore and the confidence Holly's family has placed in people like Abigail. 
"It's encouraging to know that her family sees and appreciates that nurses are often our backbone."
Abigail is ready to fight, push her patients forward and support them every step of the way - the perfect plan for a future oncology nurse.