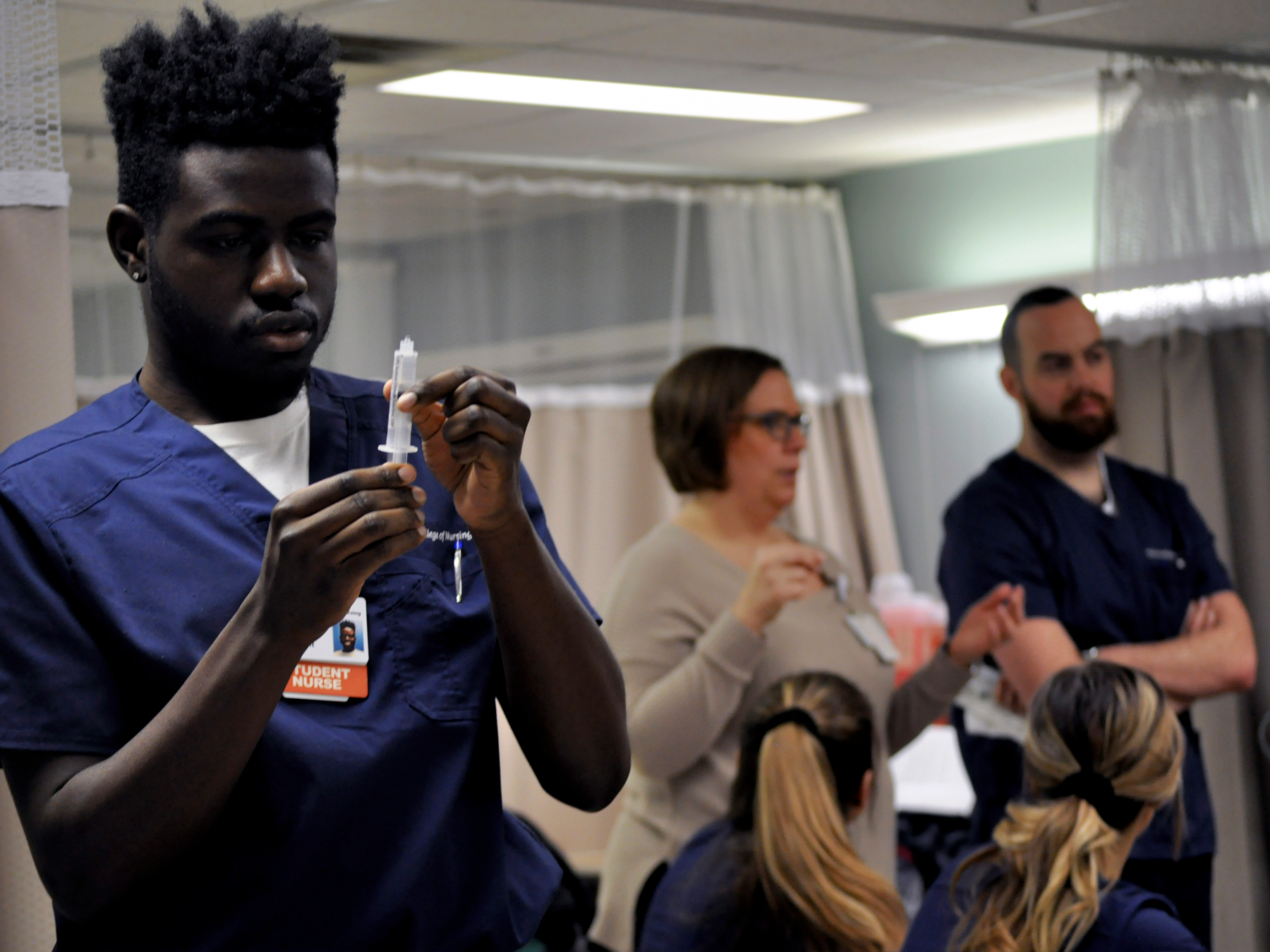 KANSAS CITY, Mo., (May 31, 2020)  –  Nursing students from Research College of Nursing, Avila University and William Jewell College received $325,584 in scholarships from The Research Foundation.
Undergraduate nursing students preparing for their junior and senior years in the three nursing programs are eligible to apply. Scholarships were awarded to 95 students based on academic performance and/or financial need. 
"As we witness the heroic role nurses are playing during the coronavirus pandemic, we have a deeper sense of gratitude for individuals choosing this profession," Cynthia Randazzo, The Research Foundation president and CEO, said. "The Research Foundation has been supporting nursing students for decades. This year, we are thrilled to award scholarships to an even larger number of students."
Research College of Nursing students were awarded $258,584 in scholarship support. Recipients include Michelle Anderson, Elizabeth Barada, Gavin Benoit, Lydia Ben-Okoh, Emma Blanner, Aubry Buckman, Morgan Bukaty, Juliana Castillo, Zachary Cegielski, Amy Chen, Madison Crenshaw, Theresa Demel, Emily Dickson, Ashley Easterday, Jillian Eckstein, Ebele Egbuniwe, Sarah Elbert, Ruth Engling, Victoria Fasnacht, Meghan Felty, Asmaret Fissehaye, Ashley Fite, Haley Fuller, Faith Garcia, Brenna Hampton, Shannon Hennen, Briana Hussey-Fox, Gabrielle Inman, Lynda Johnson, Jachyra Johnson-Washington, Kathryn Kampmeinert, Rachel Kinsella, Brianna Klatch, Alexis Lamb, Anna Lang, Stephanie Lopez, Alexis Lorts, Hannah Maass, Rosa Mazzuca, Emily Miller, Margaret Moyer, Christopher Munar, Emily Nowak, Abigail Ottoline, Tasia Roberts, Elizabeth Rovenstine, Angela Sandoval, Hannah Schaefer, Kallie Smothers, Morgan Stern, Mikayla Sullivan, McKenzie Torgerson, Samantha Warren, Jaci Welker, Kendra Winkelman, Alexander Wobbe and Samantha Zech.
Avila University nursing students were awarded $38,000 in scholarship support. Recipients include Jessica Baugh, Priya Bhakta, Jo Cayot, Jade Clancy, Carmaleta Davis, Meriah Dinwiddie, Noelle Foster, Diana Guerrero, Chase Hubler, Haley Hunter, Hanna Ly, Rebecca Mahoney, Eileen Martin, Trinity Morris, Alejandra Perez, Jessica Turner, Maria Valleroy, Ashlin Vasquez, Alexis Washington, Lacey Williams and Emily Woods. 
William Jewell College nursing students were awarded $29,000 in scholarship support. Recipients include Carley Chancellor, Miranda Daniel, Amanda Ernstmeyer, Gillian Evans, Brieanna Everts, Brianne Hupp, Alexis Kennedy, Kornelle Kirke, Adison Lehnardt, Kristen Lewis, Haylee Moore, Erin Pettiecord, Katilyn Pohl, Meredith Scarborough, Ali Shappell, Jessica Steinbach and Hattie Woodfin.
The Research Foundation provides scholarships to undergraduate nursing students in Kansas City every year. Students should apply by March 1. Click here for more information about our scholarship program.