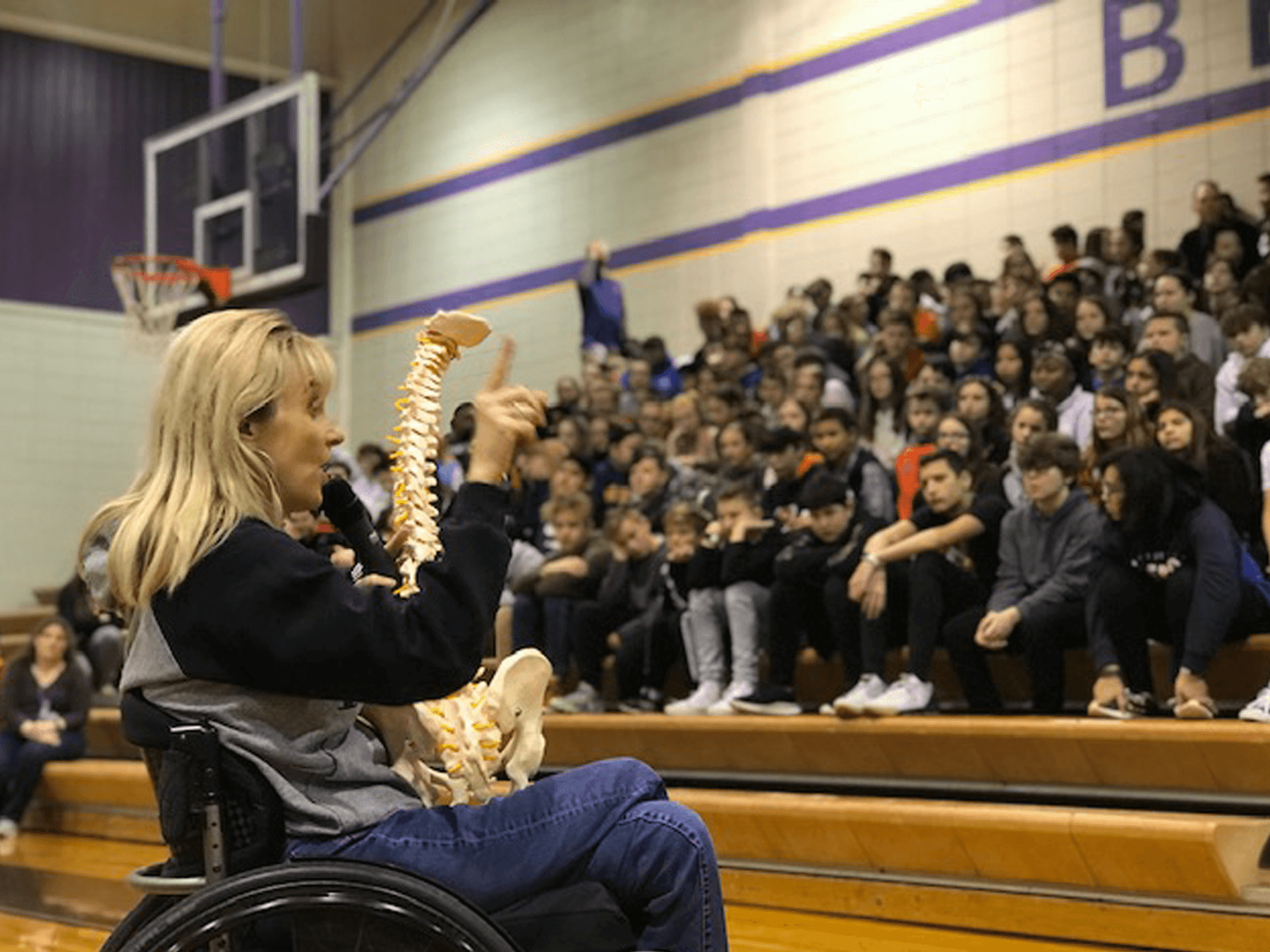 ThinkFirst of Greater Kansas City Voices for Injury Prevention (VIP) speaker Kelly Narowski was selected as the 2023 VIP of the Year by the ThinkFirst National Injury Prevention Foundation.
ThinkFirst of Greater Kansas City is an injury prevention program provided by The Research Foundation, a nonprofit organization that invests in health-centered programs and partnerships in the Kansas City area. Since 1987, ThinkFirst has presented award-winning injury prevention assemblies to grades K-12. Students learn about the consequences of careless decisions through testimonies from survivors of brain and spinal cord injuries, or VIP speakers. The presentations cover a variety of topics including promoting seat belt usage, motor-vehicle safety, , helmet usage, sports and recreation safety, water safety, and avoiding violence.
Narowski has been a VIP speaker for the Kansas City chapter of ThinkFirst for more than 9 years. Only four months after graduating college, she was involved in a serious car crash that left her with severe injuries. Because of the crash, Narowski was permanently paralyzed from the chest down. Since she recognized her crash was a direct result of high-risk driving behavior like speeding and not wearing a seat belt, injury prevention became important to her. Now, Narowski plays an important role in helping The Research Foundation educate tens of thousands of students in its ThinkFist of Greater Kansas City school-based injury prevention programs as well as more than 700 young drivers through its court-ordered diversion program called Young Traffic Offenders Program.
"The Research Foundation counts on Kelly to cover many ThinkFirst of Greater Kansas City programs and Young Traffic Offenders Program classes every month," Rose Simone, The Research Foundation director of development, said. "She always represents us well and helps us create relationships and create connections with schools."
In addition to speaking for ThinkFirst of Greater Kansas City, Narowski is a professional speaker and has delivered hundreds of safety briefings to United States service members. She also volunteers as an active disability rights advocate, serving in many roles to improve the lives of individuals with disabilities. She has past leadership experience with the 82nd Airborne Division's Wounded Warriors Committee, is the current vice chair for Midland Empire Resources for Independent Living (MERIL), the Center for Independent Living in St. Joseph, Missouri, and is a spokesperson for Wheel the World, a large accessible travel company. She holds a master's degree in disability studies and is currently a candidate for a master's in psychology.
Narowski was awarded 2023 ThinkFirst VIP of the Year at the virtual 2023 ThinkFirst Conference on Injury Prevention Wednesday, March 8. The award honors an exceptional VIP speaker actively working to promote the mission and programs of ThinkFirst, making significant contributions at the local level, and reaching beyond the classroom to assume additional roles of leadership.
"Kelly is an impressive advocate for those with spinal cord injuries," Cynthia Randazzo, The Research Foundation president and CEO, said. "We are fortunate she has chosen to be a part of our injury prevention efforts."
Visit theresearchfoundationkc.org/thinkfirst to learn more about The Research Foundation's injury prevention program, ThinkFirst of Greater Kansas City.