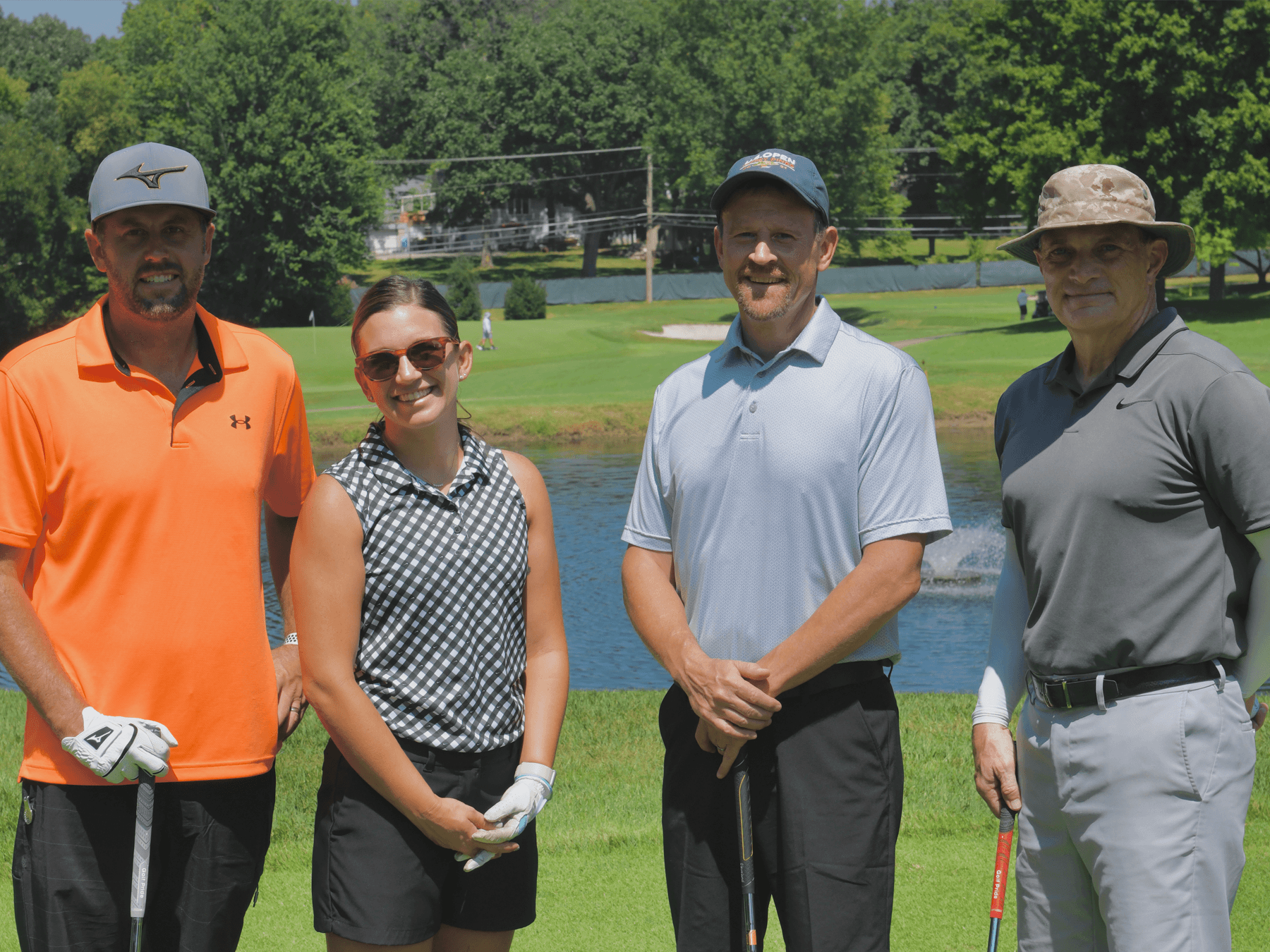 KANSAS CITY, Mo., (Aug. 22, 2023) – The 34th Annual Research Golf Classic raised $93,000 for The Research Foundation's health-centered programs and partnerships.
The annual Golf Classic was hosted at Milburn Country Club in Overland Park, Kansas on Monday, August 21. Major sponsors included Research Medical Center, LabCorp, AT Abatement, Blue Cross and Blue Shield of Kansas City, C&C Group, JE Dunn Construction, Electrical Corporation of America, Integrated Openings Solutions, Stanger Inc., and VNA Home Health & Hospice.
Team awards included:
First place: Dave Ruf, Kevin Hanrahan, Andrew Peterson, and Pat Hanrahan
Second place: Bill Kerns, Grant Milbourn, Luke Popp, and Mike Popp
Third place: Brent Snyder, John Haines, Shad Cox, and Tony Mares
Fourth place: Craig Rawlinson, Stephen Flores, Ron Miller, and Daniel Gaspar
Fifth place: Dr. Shawn Lybarger, David Williams, Dustin Ulm, and Brain Monoian
Sixth place: Dr. Sam Taylon, Mackenzie Hoambrecker, Adam Parks, and Dr. AJ Jakoi
Seventh place: Matt Wright, Dr. Sam Hoeper, Jr., Kent Stallard, and Tom Leonard
Eighth place: Todd Bartels, Scott Berberich, David Clevenger, and Adam Zink
Ninth place: Jon Lamb, Dr. Curis Fox, Dr. Doug Hutchinson, and Dr. David Powell
Tenth place: Scott Lockard, Jackie Bryan, Dominick Ehler, and Eric Broski
Eleventh place: Steve Hopfinger, Corey Schepers, Cole Bivins and Drew Harm
All ties were determined by a scorecard play-off.
Course contest winners include:
Hole 1, Closest to the pin in two shots: Mackenzie Hoambrecker
Hole 3, Closest to the pin: Phil Michaud
Hole 7, Closest to the pin: Kevin Michel
Hole 8, Longest drive (age 55 and over): Bill Kerns
Hole 9, Longest putt: Zach Donovan
Hole 10, Longest drive (age 54 and under): Shad Cox
Hole 12, Closest to the pin in two shots: Daniel Gaspar
Hole 14, Longest putt: Steven Flores
Hole 16, Longest drive for ladies: Amber Boes
Hole 17, Closest to the line: John Haines
Hole 18, Longest putt: Grant Milbourn
Alex Cunningham came in first in the putting content, Troy Reaves came in second, and Jim Crump came in third. First and second place were selected by drawing between two players who had five strokes. Third place was selected by drawing between several players who had six strokes.
"The 34th Annual Research Golf Classic was played on one of the hottest days in Kansas City history," Rose Simone, The Research Foundation tournament director, said. "We are so appreciative of our golfers, sponsors, and volunteers for braving the heat and helping us raise money for our health-centered programs."
The Research Foundation is a not-for-profit organization in Kansas City, Missouri that invests in health-centered programs and partnerships that benefit health care students and professionals, patients, and people in the Kansas City community. Learn more about The Research Foundation and its programs at theresearchfoundationkc.org.