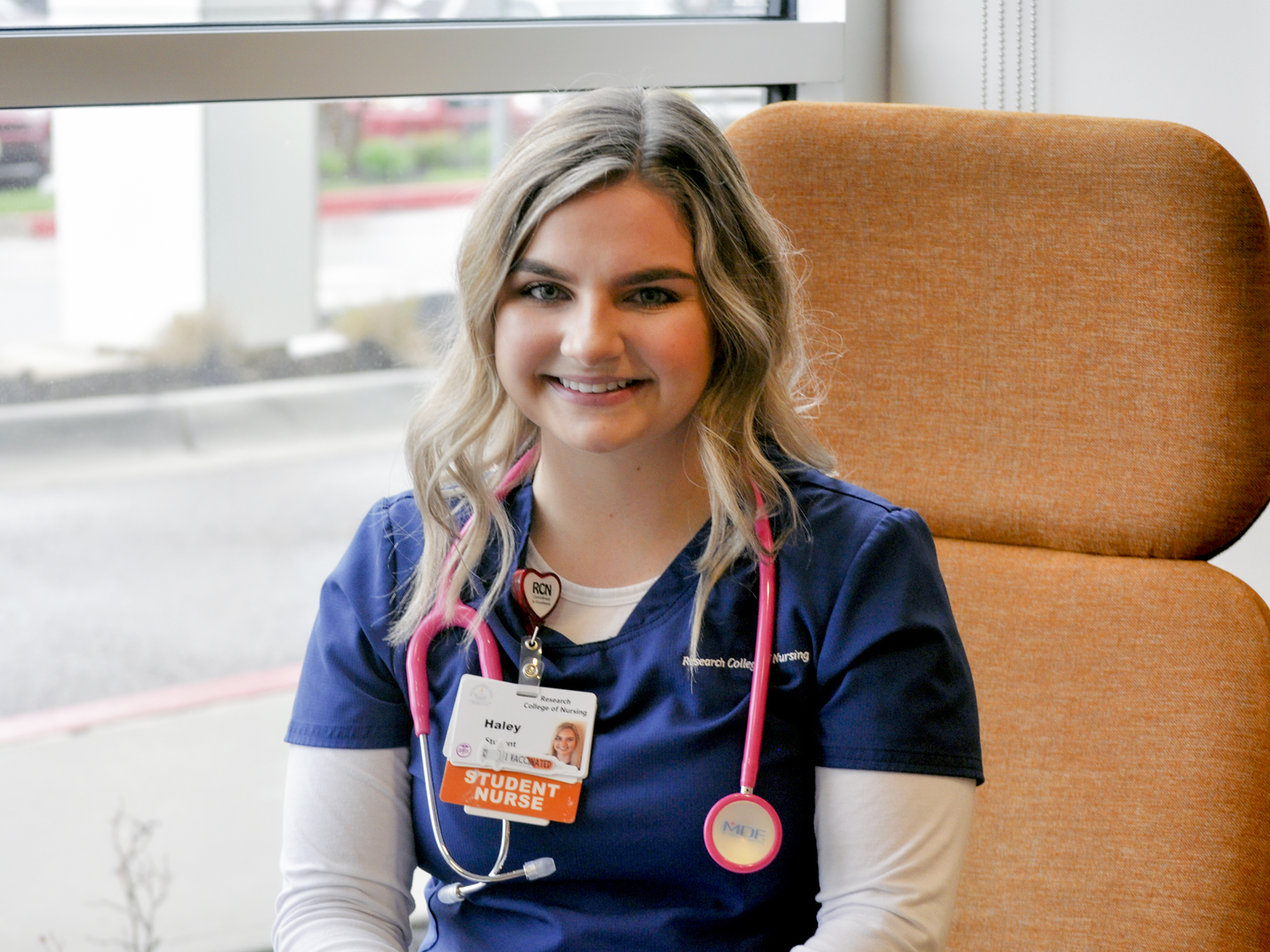 As a young girl, Haley Fuller found a home in an unusual place - the hospital. The safety and comfort provided by the nurses she encountered have inspired her to provide the same safety and comfort she received.
"When I was growing up, I visited the hospital many times due to a chronic condition and common childhood injuries. Whenever I needed a trip to the hospital, it was the nurses there who I looked up to. This was because of their ability to make me feel at home. I remember how supported I always felt."
Haley has made it her mission to become a nurse since. She believes that nurses navigate the good and bad with their patients. They have direct influence on a patient's daily life, which is what Haley believes makes nursing essential.
She remembers waking up and getting ready for her very first clinical shift. It was nerve-racking, but she was excited. The experience was fast-paced, and she doubted her ability to keep up. Then, she met a man who was struggling.
"He wasn't sure if all the medications and procedures were worth it any longer. When I heard this, my heart dropped. Out of all the scenarios I had pictured in my head, one like this had not crossed my mind. I quickly gathered my thoughts and expressed to him that as one of his nurses, I was here to help him in any way and that I cared about him."
Before she left the room, the patient told Haley that she had changed his perspective.
"This story is not one where I helped the patient medically, but rather I aided him by extending my heart. This man made me think back to the reason why I wanted to become a nurse in the first place. I want to change people's lives. And that day, I felt like I did just that."
The Research Foundation is helping Haley change lives by supporting her nursing education. In 2021, she was awarded the Class of 1959 Scholarship.
"I used to work a job to support my education, but that took up a detrimental amount of my study time. Being able to afford textbooks is also a great source of stress for me. Receiving the scholarship will help me advance to my senior year and allows me to be financially supported until graduation. The scholarship has given me the opportunity to dedicate more time to learning and for that I will always be thankful."
Whether its emotional clinical shifts or financial stresses, Haley knows this profession comes with challenges. Thanks to scholarship support, she can look past those challenges and focus on what makes her feel at home - nursing.
"I look forward to learning more each day and I appreciate the opportunities that have brought me to where I am now."