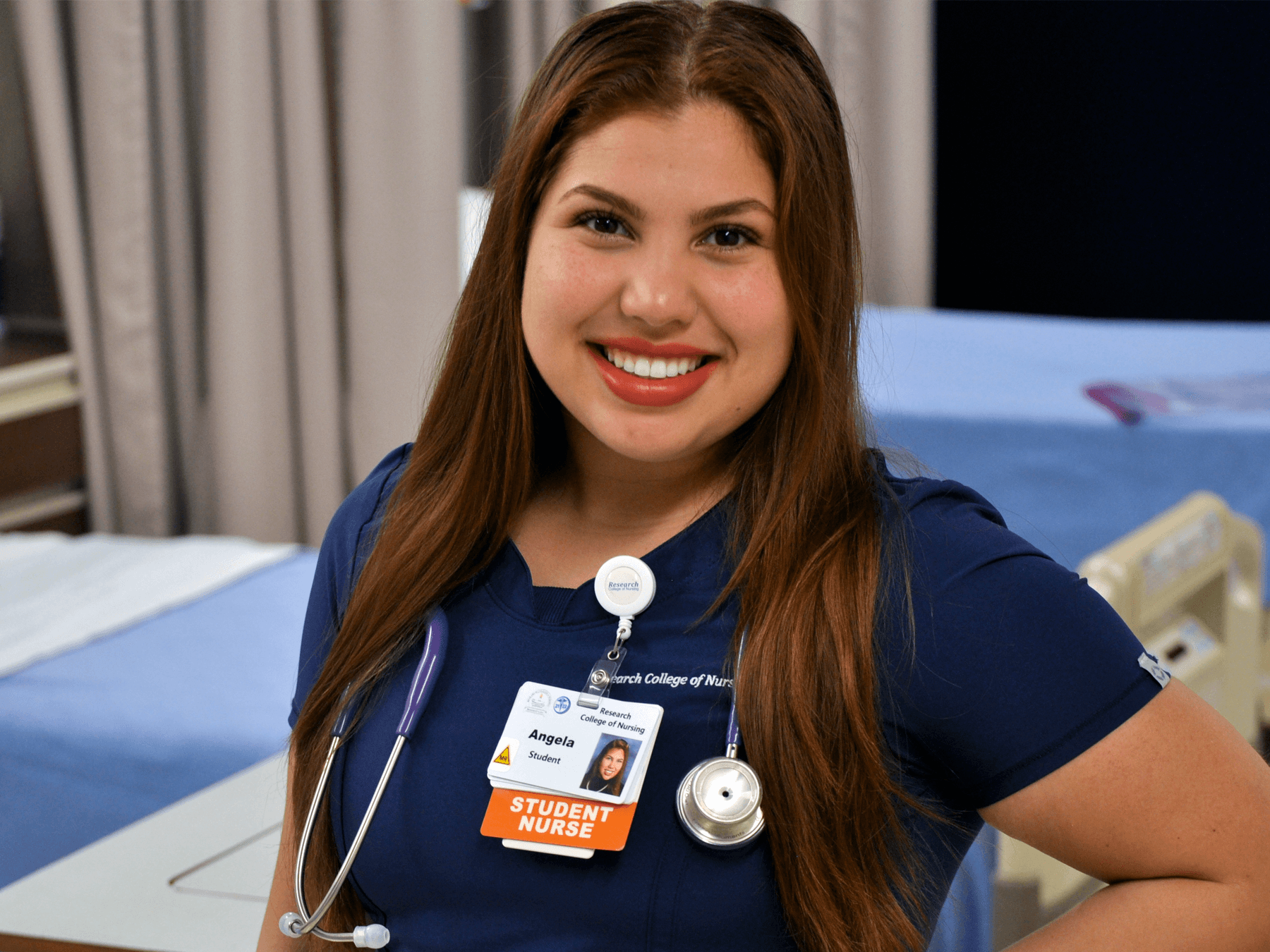 Angela Sandoval always knew she would provide care to others in some form. But when her grandfather suffered a severe stroke, the decision was final. She would become a nurse. Her family drove all the way to Mexico to be by his side in his last days. This showed Angela how crucial compassion is to a patient and their family during difficult experiences.
Angela is a first-generation college student. Her mother was born and raised in Mexico and her father was born and raised in Guatemala. They moved to the United States to provide for their daughter.
"I will be the first and last child in my family to complete a college education. Coming from a Hispanic family, this is a major accomplishment and the reason my parents came to the United States years ago."
As Angela nears graduation from Research College of Nursing, she is building upon her parents' ambitious goals. She will begin her career as a labor and delivery nurse with a long-term plan to become a certified nurse midwife specializing in home births. This stems from her approach to the nursing profession, which focuses on listening and empathy. She has first-hand knowledge that a nurse's attitude can affect a patient, their family, and friends.
"As a nurse, I aspire to bring light and positivity into the workplace. Oftentimes, the hospital setting can be a place of sorrow and pain. I want to make people smile even in the darkest times. No matter how small the action may be, it can make a difference. Listening can mean so much to someone that is having a rough day and being empathetic can spark a deeper conversation that creates a special bond."
Angela sees herself as a force for good. Whether it's at her grandfather's side in Mexico or in clinical experiences throughout nursing school, she has learned that she can leave a mark on everyone she cares for – a concept familiar to The Research Foundation. Through contributions from donors who support nursing student scholarships, the foundation has left a mark on Angela.
"I wouldn't be able to do any of this without my scholarship from The Research Foundation. It was a true blessing."
The Research Foundation awarded Angela the Virginia G. Stowers Nursing Scholarship which helped pay for textbooks and her final two years of education. It created an atmosphere that allowed her to concentrate on her classes despite financial struggles she and her family faced.  Angela's parents came to the United States years ago so she could one day earn a college degree, meaning they worked hard to support her without college degrees of their own. The three of them work together to maintain the expenses that come with nursing school.
"My parents are extremely proud that I pursued an amazing career. They are firm believers that education is the first step to success, and I can see how happy they are for me to graduate."
A scholarship from The Research Foundation has helped Angela stay focused on the journey her parents began many years ago as they traveled to the United States. Now, she is looking forward.
"This scholarship helped me excel in my studies, but I think it's also inspiring Hispanic students to never give up on their education."