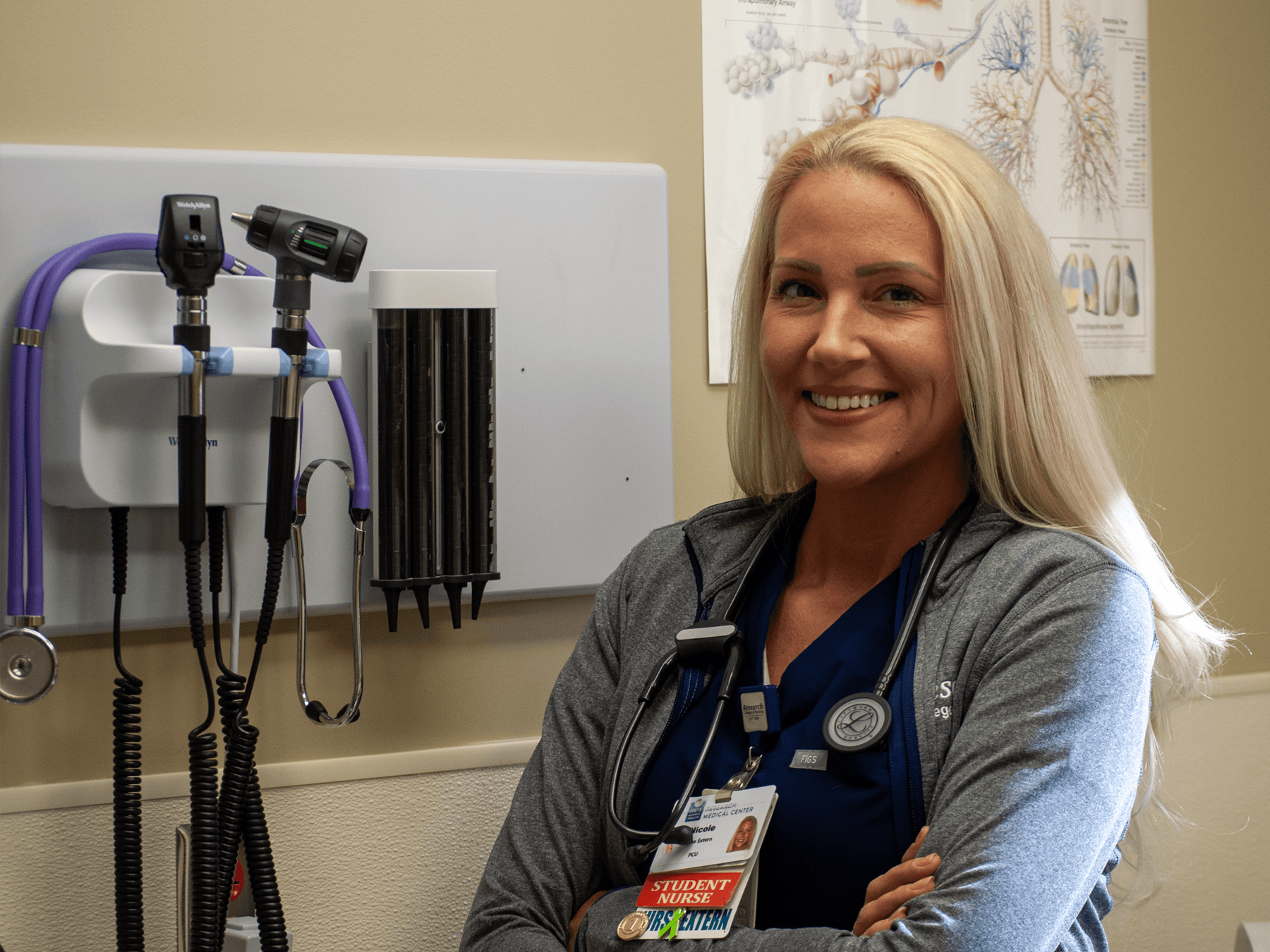 There are two things that define Nicole Portillo. It's her connection to her family and her commitment to nursing. Nicole's journey to nursing, or even education, isn't traditional. She started a family and laid down roots before pursuing a career. But her ties to nursing started early.
Her first memory associated with health care is at the age of three. Nicole was raised by a single mother who attempted to complete nursing school. As a toddler, Nicole would spend evenings flipping through her mother's anatomy and physiology textbooks.
"I was amazed by the human body and all it's capabilities." Nicole said. "I've always had an urge to care for others, cure their ailments, and advocate for people when they can't themselves."
Nicole's mom might not have been able to finish nursing school while raising a daughter on her own, but Nicole is finishing for her. Days after her third son was born, he became ill and was placed under quarantine in the NICU at Research Medical Center. Her and her husband weren't permitted into his room and couldn't be present for their son during the first month of his life, but the nurses on his unit were. Their care was so compassionate and thorough that Nicole decided to become a nurse herself. Now, with a family of her own, Nicole is hyper-aware of the challenges that come with becoming a registered nurse while raising a family.
As a dedicated student at Research College of Nursing, Nicole sees how chasing her dream affects her family in positive and negative ways.
"We're taught in school that benefits outweigh risks," she said. "I've held onto this saying throughout my journey."
Nicole has missed many meals with her family. Her husband has taken care of their four children by himself more times than she can count. Long nights and shortened birthday celebrations become the norm as studying for important exams take precedence. But nursing school has it joys, too. Nicole's 10-year-old son has helped her prepare for quizzes and her husband has become a sounding board as she learns about the nursing interventions to treat medical conditions.
"After two years of nursing school, I can say with assurance that the benefit outweighed the risk," she said. "I am a first-generation college graduate, and all four of my children will see their mother graduate with honor cords of summa cum laude and my BSN and RN."
While earning her nursing degree, Nicole received the Marie E. Middleton Scholarship, the Research Medical Center Medical Staff Scholarship, and the Clara Mart Nursing Scholarship from The Research Foundation and, in return, volunteered her time to help the foundation achieve its fundraising goals. In The Research Foundation office, she's become known for her willingness to lend a hand at events or stay in touch with nursing donors. Nicole knows many students have the same aspirations, exceptional grades, and commitment to the profession. But she also knows many students lack resources to pursue nursing.
"The world should not lack dedicated nurses and I feel that money should not be a fundamental issue preventing nursing education. That is why volunteering for and supporting The Research Foundation is vital," she said.
Nicole is graduating at the top of her class and will be a graduate nurse in the neuroscience intensive care unit (NSICU) unit at Research Medical Center. Without her scholarship, she's confident these facts would not be true. The Research Foundation's donors took a leap of faith in her abilities and passion as a student. That, combined with inspiration from her mother, husband, and four children, has placed her where she is.
"I'm not certain any of this would be conceivable if it wasn't for the generous donors to The Research Foundation," Nicole said. "Developing successful nursing students and industrious nurses is what the foundation is committed to."