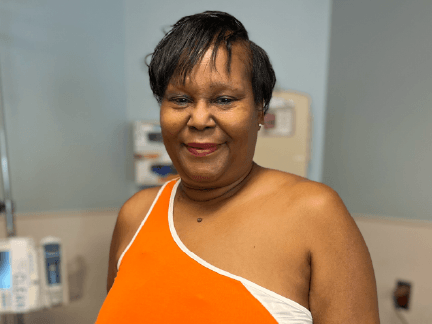 Bobbie Clark beat cervical cancer in 2018. After a long journey of discomfort and pain, she was diagnosed at Research Medical Center and is now only required to see her doctor every four months for checkups. Just three years later, Bobbie would end up back in the hospital.
"I fell in the shower. I had a little pain here and there; nothing some ibuprofen couldn't take care of. I thought it was from the fall. But then I woke up one morning and felt a deeper pain in my chest."
In October 2021, she went to the emergency room where they told her she had lung cancer. Over the next few weeks, she received chemotherapy, but complications arose from the treatment and the cancer had metastasized to her brain. As she continues to receive treatment, she decided to ask for assistance from Verda's Place in July 2022.
"It has changed my life a lot. I was going to work every day and I had no idea I had cancer. Now I can't work. I have three girls I need to feed. They need to eat. And I need to keep a roof over their heads. I had to explain to them that we have bills to pay and that our lives are different now."
Bobbie has a 17-year-old daughter and two 15-year-old twin daughters. She was spending $200 a week on groceries. Verda's Place offered her gift cards to Aldi and Price Chopper to lift some of the burden of providing for her family.
"I was too embarrassed to ask for help, but I really needed it. I was so happy, and my kids were so happy. People might not think it's much, but I thought it was a blessing to us. It allowed us to return to how we were living before."
Verda's Place assistance provided relief for Bobbie and her daughters during the month of July.
"This is the greatest gift someone could give to a person who is going through what I'm going through. It made a big difference for our bills the month of July. I told everyone it's like Christmas – Christmas in July."
The Research Foundation has collaborated with Bra Couture KC to provide Verda's Place. It helps cancer patients in the Kansas City community who are uninsured or insured by Medicaid. Support is available for utilities, food, gas, medications, and more. Verda's Place also offers comfort items at its appearance center located in the Sarah Cannon Cancer Center at Research Medical Center. Learn more at theresearchfoundationkc.org/verdasplace. Donate to Verda's Place at theresearchfoundationkc.org/givetoverdasplace.